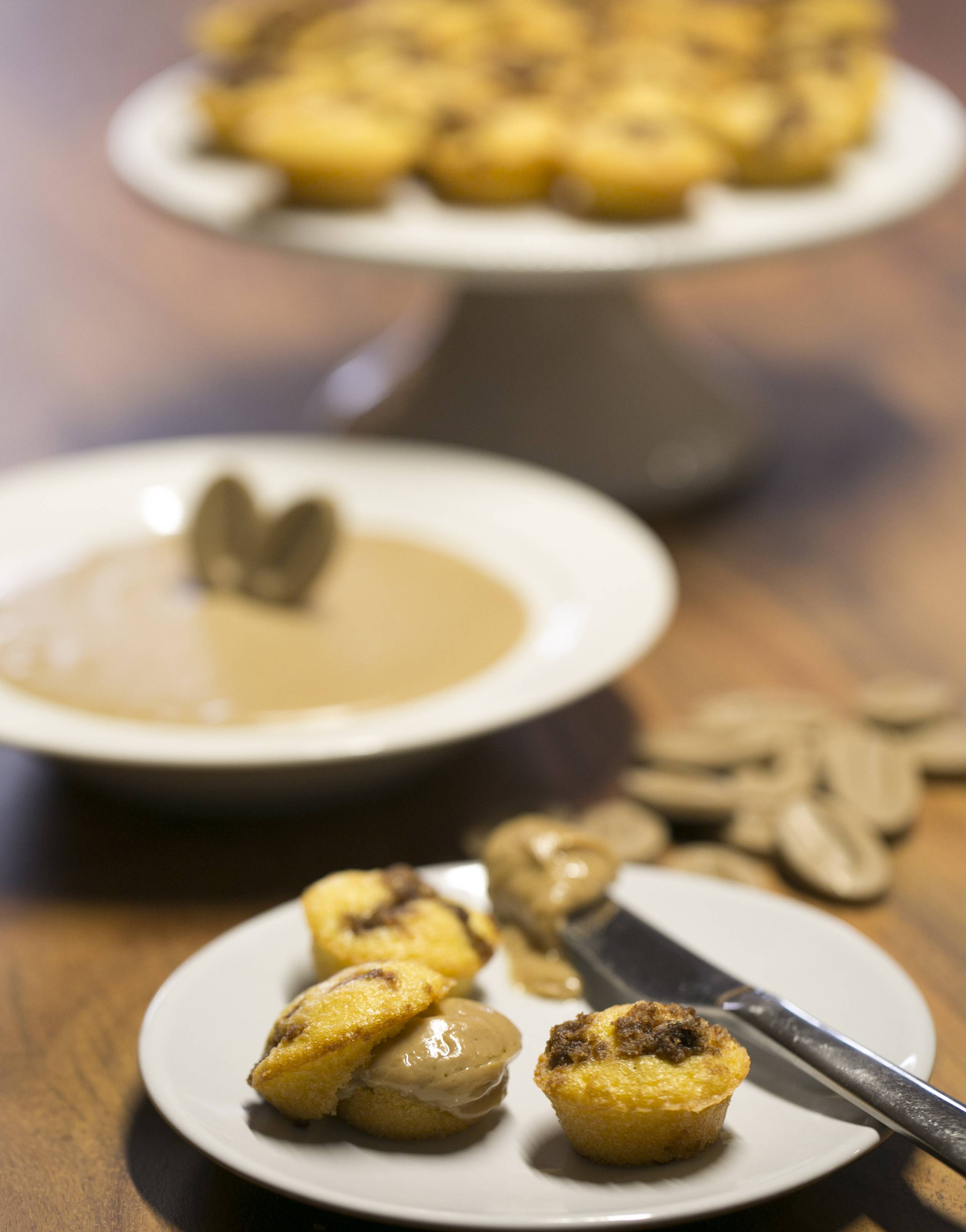 DULCEY SPREAD WITH MINI RUM CAKES
An original recipe by Valrhona Pastry Chef, Derek Poirier.
Category: Cakes and Tarts
Difficulty: Medium
RUM CAKE

250g eggs (5 eggs)
75g honey (about ¼ cup honey)
125g sugar (about 2/3 cup sugar)
50g almond flour (or finely ground almonds) (about 1/3 cup + 1Tbsp almond flour)
125g all-purpose flour (about 1 cup plus 1 Tbsp flour)
7.5g baking powder (about 1.5 tsp)
120g whipping cream (about ½ cup cream)
50g neutral oil (about ¼ cup oil)
35g butter (melted) (about 1/8 cup plus 1 tsp)
3g salt (about ½ tsp)
40g rum (about 1/8 cup plus 1 tsp)
1/2 bean Norohy Vanilla Bean (or good extract) (about 1.5 tsp vanilla extract)
DULCEY SPREAD
160g evaporated milk (about 1 cup)
50g honey (about 1/8 cup + 1 tsp)
25g neutral oil (about 1 Tbsp)
200g Dulcey 35% Chocolate
Rum Cake
Preheat the oven to 320°F (160°C).
In a large mixing bowl, combine the eggs, honey, and sugar. Beat well together.
Add in the almond flour, then sift in the flour and baking powder. Mix to combine.
Add the cream, oil, melted butter, salt, vanilla, and rum. Mix completely.
Pour the batter into buttered mini cupcake or other small baking tins.
Bake for 10 minutes or until golden brown.
*Chef's Tip: For an added texture, add a crumbled mixture of dark muscovado sugar, flour, and oil to the top of the cakes before baking.
Dulcey Spread
In a pan over medium heat, combine the evaporated milk and honey.
Bring the mixture to just under a boil, making sure not to scald the milk.
Slowly pour part of the mixture over the partially melted Dulcey 35% Chocolate, mixing from the center with a whisk. Gradually add the rest of the liquid, stirring to completed combine and create an emulsion.
Add the neutral oil. Mix until the spread is full combined.
Pour into jars or a serving dish and store in the refrigerator.
Serve at room temperature.
*Chef's Tip: This spread can be stored for up to 2-3 weeks in the refrigerator.