ONLINE CLASS: GUANAJA CHOCOLATE TART SOUFFLE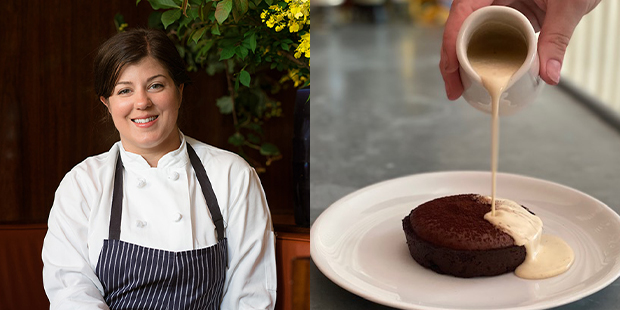 THIS CLASS IS OPEN TO ALL SKILL LEVELS
Thursday, November 28th, 2022, 1:00pm Eastern Standard Time (Duration: 90 minutes) - $49.00
VALRHONA ONLINE CLASS: GUANAJA CHOCOLATE TART SOUFFLE
Chef Instructor: Michelle Palazzo, Executive Pastry Chef, Frenchette @michelle_palazzo
Date: Thursday, November 28th, 2022, 1:00pm Eastern Standard Time
Location: Class will be held on Zoom, the link to join will be emailed to you within 24 business hours (weekdays, 9am-5pm EST) of class purchase. You will also receive a reminder email with the link to join the Friday before class, the day before class and 30 minutes before class starts. The link to join the class cannot be shared.
Recorded Session: To purchase, in lieu of the live session, students can purchase the class recording. $35 for the recorded session.
Class includes: Live Session: Class recipe book and a 20% discount code for our online boutique will be sent the Friday before class starts. All live sessions feature the opportunity to ask questions via chat box throughout the class and additional time is set aside at the end of class for a Q&A session. The class recording will be sent the day after class. Recorded Session: Class recipe book, recording and a 20% discount on your next purchase on our online boutique. In lieu of a Q&A session at the end of class, students can email ecolebrooklyn@valrhona.com with any questions pertaining to the class material.
Note: For customers located in Puerto Rico and countries other than the United States please email ecolebrooklyn@valrhona.com to sign up and pay for the class.
Class Description:
Learn how to make a restaurant quality dessert at home during this online class with Chef Michelle Palazzo, Executive Pastry Chef at Frenchette, one of New York City's top restaurants! Chef Palazzo with show you how to create one of her signature desserts – a Guanaja Chocolate Tart Souffle, which features a dark chocolate sucree crust filled with a rich yet light Guanaja souffle filling. This tart souffle can be stored in the refrigerator and baked right before enjoying, perfect for your next dinner party, date night in, or "treat yourself" moment. Served warm with a chilled Cocoa Nib Anglaise on the side, this dessert is sure to elevate any special occasion meal. Join this class to learn how to create a delicious dessert at home, impress your guests, and challenge yourself in the kitchen!
Chef Bio:
Frenchette's Executive Pastry Chef knew she wanted to get into the food world since her childhood in Massapequa, New York. She moved into New York City to attend the Institute of Culinary Education for Pastry and Restaurant Management. Although the vigor of her formal training did not immediately spark her creative passion, an internship in Italy changed all of that. Chef Michelle Palazzo's first full-time role was in 2012 at the Reynard, located at the Wythe Hotel in Brooklyn. There, she rapidly grew in the ranks earning a position as a Pastry Chef. In 2018 she left to join Chefs Lee Hanson and Riad Nasr, who opened, Frenchette in TriBeCa. With Chef Palazzo at the helm of running the dessert brigade, Frenchette has received numerous accolades from Eater, Bon Appétit, The James Beard Awards, and The New York Times. Today, Executive Pastry Chef Michelle Palazzo continues to hone her technical skills, embracing her talent to create a dynamic Pastry and Bread program. She finds that along with her passion for her craft, she gains gratification shaping and molding the next generation of great pastry chefs.
---
Cancellation Policy: As this is an online class, we apologize that we are unable to issue a refund for the class. If you miss the class, we will send you a recorded video of the course and you will be able to ask questions by e-mail to our Chef.